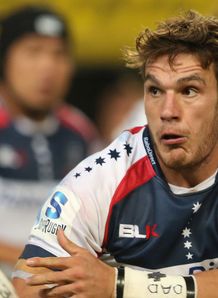 Related links
Teams
Rebels centre Mitch Inman has committed his future to the Melbourne-based franchise by signing a new deal until the end of 2015.
The former Western Force player, who was called up to the Wallabies extended training squad in 2012, expressed his delight with his new deal.
"I've agreed to stay at the club for another two years, and I couldn't be happier," he said. "I really enjoy playing with the guys here and believe in this club and its rugby programme moving forward.
"I have been in discussions with the club for some time, but it is great to be back in Australia and sign on the dotted line this week."
Inman paid tribute to the Rebels support, admitting that alongside his enjoyment of living in Melbourne, the franchise's ethos played a crucial role in his decision.
"I can't speak highly enough of the Rebels fans," he added. "The club is so well supported, even through the tough times the fans and members are so loyal.
"You just have to give them credit, they are some of the best supporters going around. The club has also allowed me to continue my off field endeavours one day a week.
"I want to take full advantage of this and continue with my studies and get some valuable work experience as well as continuing to play rugby in the best provincial competition in the world.
"Melbourne is such an amazing city, it's a great place to live and there is a great vibe around both AAMI Park and the city in general."