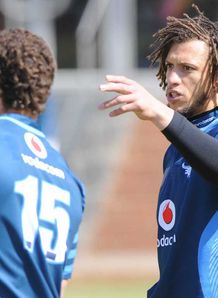 Related links
Teams
Bulls full-back Zane Kirchner has dislocated his finger against the Brumbies and will miss up to six weeks of Super Rugby.
Kirchner is set to undergo surgery after sustaining the injury in Canberra on Saturday.
Dean Greyling could play 40 minutes for the Blue Bulls Vodacom Cup side this weekend as he is returning from a stress fracture in his foot.
Greyling has been recovering well and a good spell for the Blue Bulls against a strong Leopards XV may bring him in contention for next week's Super Rugby clash against the Cheetahs.
Wingers Akona Ndungane and Bjorn Basson will also be ready after the bye for the next game against the Cheetahs. Basson's ankle and Ndungane's broken cheekbone have healed sufficiently for them to be considered in a week's time. Flip van der Merwe will also return after a chest injury.
Wynand Olivier (two to three weeks - knee injury), Francois Hougaard (two weeks - ankle injury) and Grant Hattingh (five weeks - thumb fracture), will be back fairly soon as will Marcel van der Merwe, will finally get on the field in May.