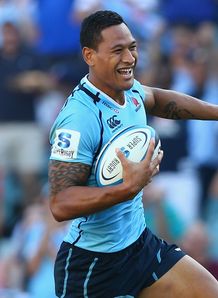 Related links
Teams
Waratahs full-back Israel Folau admits that although he is still learning the game, he is happy with the progress he has made this season.
Folau who started his rugby union career this year, after stints in the NRL and AFL, played a key role in the Waratahs' 30-27 victory over the Blues in Sydney.
Apart from scoring a try, he made the final pass for Drew Mitchell's five-pointer, was safe under the high ball and went on a 60-metre run before losing possession in contact.
"I was pretty happy with my personal game and just a few things there that I've got to have a look at and I've got to try and fix up for next week," Folau told Sportal after the Blues game.
When asked which areas of his game he feels needs improvement Folau replied: "Probably decision making and just that last bit there where I made that break down the side and probably could have given it back on the inside, so I've just got to have a look at it.
"When I had the ball I pinned my ears back and went for it and then I saw the full-back coming across so I tried to slow down and wait for support if there was any behind me.
"And I didn't see any in my peripheral vision so I just tried to beat him one on one and then the support arrived a little bit late, so there's just a few things that maybe I've got to fix up for next time."
The 23-year-old revealed that although he still has to consciously think about what he's doing at times, his new code feels more natural with each outing.
"I don't think about it at training, I guess I'm still thinking a little bit on the field but it's not a major thing to worry about," he added. "That's just things that'll come I guess when I keep playing the game.
"For me personally playing full-back is a lot to do with positioning and then just going into the contact trying to get low otherwise they hold you up and they can steal the ball, just little things like that I've got to try and make it become second nature I guess."