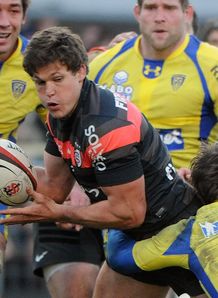 Toulouse scrum-half Luke Burgess is set to return to Australia at the end of this season with a year on his contract remaining.
Burgess joined Toulouse after the Rugby World Cup in 2011 and was part of the side that won the Top 14 last season.
The 28-year old will now return to Super Rugby, with the Melbourne Rebels reportedly the frontrunners for his signature after the departure of Nick Phipps to the Waratahs.
"I am going to leave. I have another opportunity," said Burgess.
"It's hard to work in another language, but that's not an excuse. It's a challenge that I appreciate.
"The rucks are different, the refereeing is different, that's true. But I have learned a lot playing in Europe."
Meanwhile, France full-back Yoann Huget has signed a new three-year deal to remain with the Toulouse until 2016.