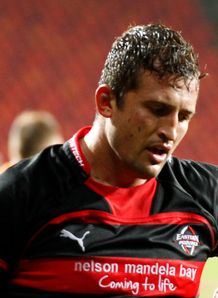 Related links
Teams
Kings front-rower Schalk Ferreira will captain the Port Elizabeth-based side in Saturday's clash against the Crusaders in Christchurch.
Ferreira becomes the side's fourth captain in as many matches after Luke Watson, Darron Nell and Steven Sykes led the side in their previous fixtures.
Ronnie Cooke has been named as the side's vice captain.
"Schalk Ferreira, who I think is an exemplary player, who always gives everything in every game, will no doubt lead by example, and Ronnie Cooke as vice captain has shifted in fantastically, he is a superb player and a superb bloke," said Solomons.
He added that he expects the game to present challenges in terms of leadership and depth to the tournament newbies.
"Certain players weren't available, Steven Sykes took a knock and wasn't available and we didn't want to risk Andries (Strauss)," explained Solomons.
"He's much better, but he's still a little bit bruised around the AC joint and neither of them was considered for this particular game.
"For the rest we tried to get a measure of consistency again in our selection but while there is a level of consistency, what is also nice is that there are opportunities for players."
"Rynier Bernado comes in on the bench, obviously with Steve being out. I think it's a great opportunity. Here's a guy from Framesby out of the academy playing Super Rugby. "
"I've said it before it's the green shoots of what Robbie (Kempston) is doing at the academy and it's fantastic.
"What's also fantastic to see is Waylon Murray, who had 30 minutes against Border (in the EP Kings Vodacom Cup game last week)."
"He basically hasn't played for a year and its fantastic having him as part of the setup. It's fantastic for him personally and for the team," Solomons said.
Solomons believes the change of players on the tour would also test his side's resolve, with Devin Oosthuizen and Edgar Marutlulle both named on the bench for Saturday's game after flying in as replacments for Tomās Leonardi and Virgile Lacombe.
"Obviously for Devin and Edgar it's quite tough for them. They only arrive tomorrow morning at 9am."
Kings: 15 George Whitehead, 14 Sergeal Petersen, 13 Ronnie Cooke, 12 Hadleigh Parkes, 11 Marcello Sampson, 10 Demetri Catrakilis, 9 Shaun Venter, 8 Jacques Engelbrecht, 7 Wimpie van der Walt, 6 Cornell du Preez, 5 David Bulbring, 4 Daniel Adongo, 3 Kevin Buys, 2 Bandise Maku, 1 Schalk Ferreira (c).
Replacements: 16 Edgar Marutlulle, 17 Jaco Engels, 18 Rynier Bernardo, 19 Devin Oosthuizen, 20 Nicolas Vergallo, 21 Waylon Murray, 22 Elric van Vuuren.
Date: Saturday, 23 March
Venue: AMI Stadium, Christchurch
Kick-off: 19:35 (06:35 GMT)
Referee: Rohan Hoffman (Australia)
Assistant referees: Mike Fraser (New Zealand), Kane McBride (New Zealand)
Television match official: Keith Brown (New Zealand)