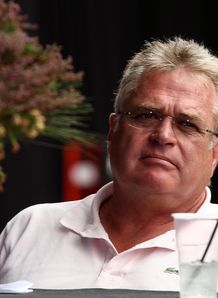 Related links
Teams
Also see
Kings president Cheeky Watson has hit back at claims that his franchise has breached SARU's Super Rugby participation agreement.
Watson confirmed that he has been in contact with SARU's leadership over their suspected breach of the regulations after the Kings fielded three foreigners in their matchday 22 against the Chiefs last Friday.
"I have received a call from SA Rugby, and while there is a difference of opinion relating to the definition of foreign players, it is my duty to submit to the guidance of the governing body of SARU," he said.
Watson said via a press statement that the Kings' two Argentineans - loose forward Tomās Leonardi and scrum-half Nicolas Vergallo - should not be regarded as foreigners.
And the Kings have arrived in New Zealand with four foreign players in their 26-man tour squad - two more than SARU's quota for a 30-man Super Rugby squad.
The other foreigners in the squad, alongside Leonardi and Vergallo, are French hooker Virgile Lacombe and New Zealand utility back Hadleigh Parkes.
"In the process leading up to the signing of foreign players last year, we were led to believe and even encouraged to sign Argentinean players - who currently participate in the Vodacom Cup as the Pampas - with the understanding that they would not be considered as foreign players, in the same way as Daniel Adongo, who is from Kenya, is not considered a foreign player," added Watson.
"That being said, the sanctions which are being considered against the Southern Kings, as per the statement issued by Saru, have been clearly conveyed to me."
Watson also bemoaned the negativity regarding the Kings' inclusion in Super Rugby for the first time this year.
"I am on record as having clearly stated that our treatment and entrance into Super Rugby, and the entire process to date, has disadvantaged us tremendously," he said.
"However, no-one can dispute the fact that we are the first of the Super Rugby franchises added to the competition to have won our first game.
"We have also had a record of over 100 000 spectators through the gates of Nelson Mandela Bay stadium in our first three home games.
"We have proven in the last three games that we have played, by the attendance and the support of the spectators that we will fight and we will show our true colours as our emblem emblazons, the spear and the shield.
"As Winston Churchill once said, 'We shall never surrender'".