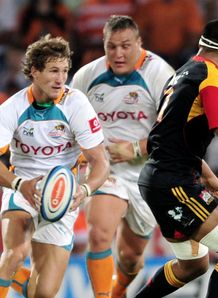 Related links
Teams
Also see
The Cheetahs were dealt a major blow after star fly-half Johan Goosen was ruled out for at least six months with a serious knee injury.
The Springbok pivot tore the cruciate ligaments in his right knee during a training session in Sydney and Cheetahs back-line coach Hawies Fourie believes the team faces a major challenge to overcome the setback.
Goosen will return to Bloemfontein on Thursday with back-rower Frans Viljoen, who will be sidelined for three weeks after suffering a calf injury in the 27-26 win over the Waratahs last weekend.
But it's Goosen's injury which is the most concerning to the Cheetahs. The 20-year-old was in fine form in recent victories over the Highlanders and 'Tahs, after struggling with his goal-kicking earlier in the tournament.
He returned to action in the Cheetahs' opener against the Sharks in Bloemfontein after being on the sidelines for nearly four months with a knee injury sustained last season. He also struggled with a sore heel which limited his goal-kicking ability.
Fourie said the Cheetahs are devastated by Goosen's latest injury.
"We were doing fitness drills after training and playing against each other," he told the Volksblad website. "Somebody kicked the ball and Johan gathered it in the air. He then tried to side-step one of the guys when his knee gave way."
Fourie revealed that Goosen experienced immediate pain and he knew that the injury was serious.
He stressed, however, that there was nothing wrong with the playing surface on which they were training.
"It was the best field we have trained on during our tour," added Fourie. "Johan's injury was a freak accident and is quite bad. He said it was important that the team got over the setback. "It's difficult for all of us," explained Fourie.
"The challenge is for the team to put it behind us as soon as possible. We can bring in Riaan Smit and Burton Francis to get over the blow quickly."
According to Fourie, Smit will start this weekend's match against the Western Force in Perth while Francis will be amongst the replacements.