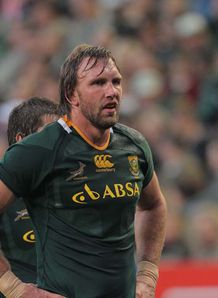 Related links
Teams
Springbok lock Andries Bekker will move to Japanese club Kobelco Steelers at the conclusion of the 2013 Super Rugby season.
The 2,08m-tall lock, who has 29 Test caps for the Springboks and is the most-capped Stormers player in the history of Super Rugby, aims to prolong his professional rugby career with the move to Japan.
"I'd like to thank everyone at Western Province for their incredible support over the years," said Bekker. "It will be a sad time when I do leave Cape Town, but my wife, Elaine, and I are excited about the adventures that lie ahead.
"I'm particularly excited about joining up with my fellow South Africans at Kobelco Steelers - players like Peter Grant and Jacque Fourie have had nothing but great things to say about the club," added Bekker.
The 29-year-old will finish his 2013 commitments with the Stormers before departing for Japan, which means that he will be available for the knockout stages of the Super Rugby tournament, but this move does mean that his Springbok career will be on hold for now.
"It was a tough decision for me to make," said Bekker.
"I've spent my entire professional rugby career in Cape Town, but, at this stage of my life, I felt it would be best to further my career abroad and to embark on a new adventure - both as a person and a rugby player.
"That said, we're just three games into the 2013 Super Rugby season... it's still a long season ahead of us and I'd love nothing more than to end my Stormers career on a high."
The mobile second rower made his Stormers debut in 2005 and is on the verge of playing his 100th match for the Super Rugby franchise (he is currently on 97 caps), which would make him the first Stormers player to reach this incredible landmark.
Bekker, South Africa's Super Rugby Player of the Year in 2010, has also made an additional 38 appearances for Western Province, since 2004 - scoring 12 tries for WP and a further 12 for the Stormers.
Western Province Rugby CEO Rob Wagner commented: "The Bekker name is synonymous with WP and Stormers rugby - through Andries and his father Hennie, before him. It will be the end of an era when Andries departs for Japan.
"We have seen Andries grow from a gangly schoolboy into a strapping Springbok. However, at this stage of his career a move abroad is in his best interests, so we wish him and his family well in the next exciting chapter of their lives."