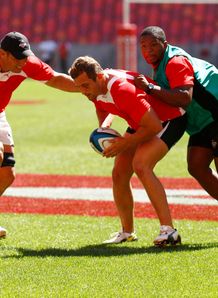 Related links
Teams
Having spent much of their first two games on the defensive, the Kings will seek better ball retention when they take on the Chiefs in their Super Rugby encounter in Port Elizabeth on Friday.
The rookies have made an encouraging start to the competition, defeating the Western Force and losing a tight struggle against the Sharks last weekend.
Now they face the defending champions, who will be hurting after their loss to the Stormers in Cape Town and will be eager to bounce back against the newcomers.
Kings coach Matt Sexton, who played Super Rugby for the Crusaders, said he understood the challenges his charges faced.
"The Chiefs have good depth right across the board so we will have a bit of a job on our hands and look forward to the challenge," said Sexton.
"Part of being defensive (last week) was that we didn't hold on to the ball properly. We made some silly errors and turned over ball when we shouldn't have.
"I think if we held on to the ball for a number of phases it might have been a different story, so we've been working on that at training.
"The players have seen the pictures and the implications of letting go of the ball too easily.
"The Chiefs have threats right across the board. They're pretty clinical when you turn over the ball or on a miscued kick or things like that.
"We want to be nice and tidy with what we do and I think that if we do that well, it presents a good challenge to them."
Another New Zealander, substitute backline player Hadleigh Parkes, emphasised the dangers presented by the Chiefs.
"It is exciting to be coming up against my countrymen because I played against a lot of them at schoolboy level," Parkes said.
"We have to be clinical against them because the Chiefs have shown themselves to be a pretty good attacking side.
"They can score tries and they have got a lot of steppers in their backline who can make space for themselves. In this game we have to be connected defensively and not be stand-offish."