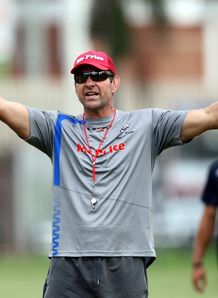 Related links
Teams
The Sharks are using last year's Currie Cup final loss to Western Province as motivation for Saturday's clash with the Stormers in Durban.
That is the word from Sharks coach John Plumtree who said WP's victory, against all odds, in Durban is still weighing heavily on his players' minds.
"The result of last year's Currie Cup final will definitely mean something to our game against the Stormers at Kings Park as it was not a nice way for us to finish the season and the result hurt us," Plumtree told Supersport
"We would like to make up for that by reversing the result this time, but the defeat may have helped us in that it has motivated us to work extra hard during the off-season.
"The Currie Cup final pinpointed the areas that we needed to work on, and we have put in a lot of hard yards during the summer months to correct our weaknesses. I think this game (against the Cheetahs) showed that the work is paying off."
The Sharks got their campaign off to a positive start with a 29-22 win over the Cheetahs last weekend, but there are still facets of their game which they are giving extra attention to - particularly their line-outs which played a huge part in their undoing in the Currie Cup final defeat to WP.
"There were areas we decided we needed to work particularly hard at over the off-season, and line-outs were obviously one of them," added Plumtree.
"We needed to sort out the throwing, and in that regard Craig Burden and Kyle Cooper, the two hookers playing at the moment, have put in the hard yards.
"This performance was an indication that the work that has been put in is paying off."