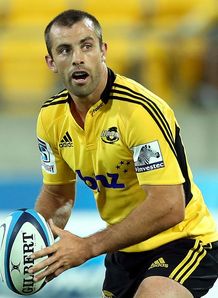 Related links
Teams
Hurricanes captain Conrad Smith could miss this weekend's clash with the Reds, in Brisbane, after he failed a sideline concussion examination in his team's defeat to the Blues last weekend.
The All Black centre had a fitness test on Monday after which he was monitored for headaches.
The Hurricanes leave for Brisbane on Wednesday and any adverse effects mean that Smith is unlikely to be included in coach Mark Hammett's squad.
"He needs to pass the physical test now," Hammett told the New Zealand Herald.
"If he's not cleared then he won't [fly to Brisbane]. He needs to be cleared ... to be able to pass that seven-day protocol.
"He's in pretty good shape and in pretty good spirits. He generally doesn't have a lot of knocks.
"He's had a few eye injuries but this is not an eye injury. I think he'll be fine."
The Pitch Side Concussion Assessment has been introduced to Super Rugby this season.
Under the assessment, players with suspected concussion are sidelined for five minutes while they undergo a medical assessment by both the team doctor and an independent physician.
"He felt fine straight after the game when I was talking to him, but that doesn't always determine how bad a concussion is," added Hammett.