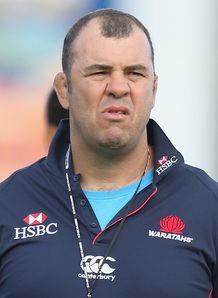 Related links
Teams
Waratahs coach Michael Cheika is fuming after Adam Ashley-Cooper sustained a neck injury in Saturday's 25-17 loss to the Reds in Brisbane.
Cheika has criticised New Zealand referee Chris Pollock's decision not to refer a Mike Harris hit on Ashley-Cooper, in the 27th minute of the match.
Ashley-Cooper went to ground, trapping a team-mate who fell over him and who also hit the deck.
He (Ashley-Cooper) stayed on the field for the rest of the half but was replaced by Ben Volavola after the break.
"He's not alright, he took a shot, off the ball, no arms (and) no one does anything about it, the guy can't hardly move in there," Cheika said.
He added that he was disappointed that Pollock did not make use of the white card referral system to check on the incident.
"I don't know what (captain Dave Dennis) said on the field but from my end he gets hit with no arm, no ball, comes off the field and nothing happens ... we got a penalty (but) I had a player cited for bumping into a guy on the kick-off at the trials."
The Waratahs came back from a 14-point deficit to draw level at 17-all but a second try to Reds centre Ben Tapuai sealed the win for the hosts.
"We have to learn how to play under pressure, simple," Cheika added.
"We will learn how to play under pressure more often ... and the more we do it the better we'll get at it."
"We showed that we've got good potential, we showed that we're prepared to work hard ... we show that we're prepared to play a new style - sometimes to our own detriment - but we're committed to doing that because it's the way to teach ourselves to go forward."
Dennis said pressure on the Sydneysiders came from within and this led to mistakes.
"We were in control of that game once we got back to 17-17 and the momentum was all with us and for some reason we felt we were under pressure, where the reality was we had them under the pump," he explained.
"It's just a mindset we've got to change."