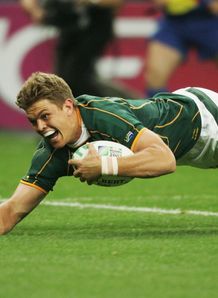 Related links
Teams
Also see
Former Springbok and Cheetahs flanker Juan Smith, who last week announced his retirement due to an Achilles injury, could make a dramatic return to the pitch.
Smith was on the sidelines for two seasons after rupturing his Achilles tendon in the Cheetahs' Super Rugby opener against the Bulls in 2011.
He underwent four operations in a bid to return to action and succeeded in playing cameo roles during the Cheetahs' pre-season warm-up matches against the Stormers and the Bulls.
But he was forced to retire when the injury flared up again.
The 69-Test veteran, however, could come out of retirement if a new procedure, in which clamps are used to further tighten the tendon, is successful.
"When Johan Kruger, the doctor who initially reattached my Achilles tendon, heard about my retirement he phoned me immediately [and told me about the alternative surgery] and he believes it can be a success," Smith told the Rapport newspaper.
"Why wait? I'm 32, and if I get another opportunity I want to play. Even if it is just for one more season, that's all I'm asking for."
The 2007 World Cup winner is grateful that he managed to play get through 60 minutes of rugby in those pre-season games against the Bulls and Stormers.
"Sixty minutes - at least I had that," he said.
"Thirty in the warm-up game against the Stormers and thirty in the warm-up game against the Bulls. That made all the pain of the past two years worth it."
But although he savoured his return to the game Smith revealed that it was an anti-climatic way to call time on his career.
"It's not how I wanted to end my career. I wanted to go out on my own terms - I have unfinished business."