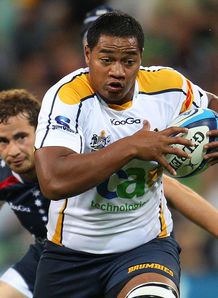 Related links
Teams
The Brumbies have been dealt a blow after back-rower Ita Vaea was ruled out for the season due to blood clots on his heart.
Vaea is using blood-thinning medication to help him overcome his condition.
A clot formed on Vaea's heart last year and bits started to break off and were found in his kidneys and calf at pre-season training.
The Canberra-based franchise's coach Jake White has vowed that the Brumbies will support the 24-year-old to help get him back to full health.
Vaea's problem was first discovered in October when a clot appeared in his calf and he was immediately sent for more tests when his foot turned white at training.
At some point he had a mini heart attack, which compromised the heart muscle. It affected his circulation and parts of the clot were pumped around his body.
Ironically, the pain in his calf saved his life, as doctors discovered a major problem.
Vaea will have another test in six months to see if his condition has improved and a decision will be made then on whether he will be allowed to train again.
The blood-thinning medication makes it too dangerous for Vaea to play or train due to the risk of internal bleeding, especially from a chest or head blow.
Had Vaea continued to play with the clot undetected, he could have suffered a stroke or cardiac arrest.
"He's part of the Brumbies family, it's just the tradition of the Brumbies, and we want to give him everything we can," White told The Canberra Times.
"We want to help him, he's a young boy and with a great future and we want to make sure he still has that great future.
"Five minutes into a practice he couldn't walk and there was a clot running up and down in his system.
"I'm really proud of our medical staff, they've got in on this early and they've looked after him and that's a positive thing for the players here, they know they will be looked after."
Brumbies doctor Angus Bathgate believes Vaea's life would have been at risk if he continued to play.
"At the end of the day, the clot in his leg probably saved his life,'' he said.
"It could have easily gone to his brain and he would have had a stroke.
"It's scary stuff. You don't expect it in young football players. He's being well looked after now.
"It's unusual, it's not typical but it is being well managed and he's feeling normal."