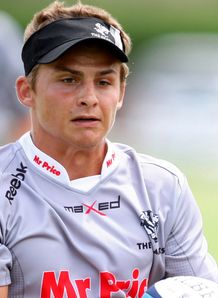 Related links
Teams
Sharks utility back Pat Lambie will play at fly-half this year instead of full-back where he played most of his rugby in 2012.
That is the word from the Durban-based franchise's coach John Plumtree who played Lambie at full-back last year while Frederic Michalak was preferred at fly-half.
However, with Michalak returning to France, Lambie - who was the Springboks' first-choice number 10 on their end-of-year tour to Europe last year - will focus on playing at fly-half alongside centre Frans Steyn.
"It was good to see him play those Test matches at fly-half, but I think it's also important to understand that the Boks play a different style of rugby to us," Plumtree told The Sharks website.
"I think the Boks play more off the scrum-half and we generally play more off 10 so he'll have more responsibility with The Sharks.
"But he started playing really well at fly-half in last year's Super Rugby competition before he got injured, and then obviously Fred came into that role. "
"I think people forget that Pat picked up quite a few injuries last year, so he didn't have a great season in Super Rugby from an injury perspective. "
"But hopefully the injuries will stay away this season and he'll be able to get a good run of games in that position. "
Plumtree is happy with the Sharks' depth in midfield, with Steyn joining the team last year to add to their stocks, sharing duties with Meyer Bosman, Paul Jordaan and Tim Whitehead.
"It's taken a bit of time to get our midfield to where it is, losing Frans but now with him coming back, " said Plumtree.
"To have a big, physical player in the midfield is going to be great, he still has a little work to do on his fitness because he was out for three or four months with an ankle injury, but he's getting there.
"We have some good options in the midfield."
The Sharks' first Super Rugby warm-up match is against the Leopards in Pietermaritzburg on Friday and the second is against the Pumas in Durban a week later.
Plumtree hopes to give as many players as possible game-time.
"We'll look at giving most guys an opportunity in those two warm-up games, that's important, " he said.
Meanwhile, Plumtree also confirmed that Springboks number eight Ryan Kankowski will return to the Sharks next week after he spent the second half of 2012 playing in Japan.