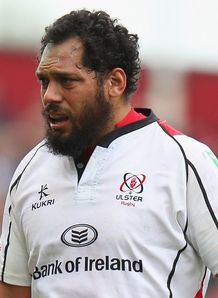 New Zealand and Ulster prop John Afoa is eager to return home after his contract with the Irish province expires in 2014.
Afoa and his wife are expecting their third child in the coming weeks and appear ready to return to New Zealand after joining Ulster following the 2011 Rugby World Cup.
"Bringing the family home for the baby is a positive...hopefully come back and play some footy too," said Afoa to TVNZ One News.
"I think like most people you want to be close to your friends and family in those early stages."
Blues coach John Kirwan has stated that Afoa would be more than welcome at his old side should he decide to return to New Zealand following the end of his contract in Ireland.
"This is his home, over 100 games, he's one of our guys," said Kirwan.
"If he wants to come home we'd love to talk to him."