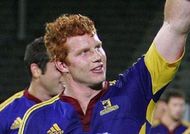 New Highlanders coach Glenn Moore has happily embraced the underdog tag as his team prepares for the start of the Super 14 series, minus a host of their All Blacks and other senior players.
Having lost 24-36 to the Chiefs in their first warm-up match at the weekend, the Highlanders have one more pre-season outing - against the Blues in Dunedin on February 8.
However, Moore's biggest concern is the loss of all his senior players - who either left for greener pastures or are out injured.
The Highlanders have lost All Blacks Anton Oliver (now at Toulon), Carl Hayman (Newcastle), Clarke Dermody (London Irish) and Nick Evans (Blues).
Captain Craig Newby will miss the first few rounds through injury and All Black lock James Ryan will miss the entire season through injury.
Not surprisingly the critics have predicted the Highlanders will be easy-beats.
However, Moore - who took over from Greg Cooper (who also joined the Blues as David Nucifora's assistant) - feels his rookie-packed squad is capable of making a fist of it in the Super 14.
Moore, the former North Otago and New Zealand Divisional 15 coach, said experience obviously now wasn't one of the side's strong points. But he still believed his side would be a handful when the season starts.
"It is individual people's views," Moore told Yahoo!Xtra when asked about the suggestions that his side will struggle to cope with the demands of the Super 14 series.
"We would accept that we have lost experience, but we have picked some solid players. And the one thing that I can guarantee you is that there will be heaps of enthusiasm and desire.
"That is one thing that is coming through.
"The boys have already bonded well.
"I have been in situations with teams like that before and they performed fine. You probably only have to look at the [2007] Air New Zealand Cup. At the start I guess Hawke's Bay were written off as well."