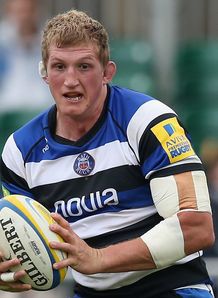 Related links
Teams
Described by coach Mike Ford as "the best captain I've worked with", Bath have confirmed that Stuart Hooper will remain as captain for the fourth consecutive season.
"I've worked with some great captains throughout my career, but Stuart really is the finest I've had the pleasure of working with", explained Ford.
"Stuart embodies everything you look for in a captain, and everything we expect from our players here at Bath.
"His leadership is second to none, he's a skilful, intelligent player on the pitch, and just as importantly he's a wonderful example off the field to the rest of the squad.
"He also has the respect of everyone at the club. His work ethic and dedication to improving week on week is exactly what we, as a group of coaches and players, need as we continue the development of the club."
Hooper has made 150 appearances for Bath to date, and reached the Premiership milestone of 200 appearances last season.
"It's an honour to be named as captain for another season, and I'm very proud to be given the chance to continue leading Bath as we keep improving in the upcoming season," said Hooper.
"We have a very exciting squad, and we know we have the potential to progress even more. We know what we have to do next season, and all the hard work ahead of us, but we can't wait to get started."