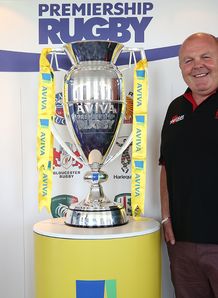 London Welsh head coach Justin Burnell believes the team are in much better shape to handle playing in the Premiership than two years ago.
Welsh's promotion back in 2012 went through an appeal and left them with little preparation time for a tough campaign, from which they were eventually relegated.
Now back in the big time and having made a number of signings for the new season including former England back Olly Barkley, Burnell feels the club are well placed.
"I think we're more settled than the last time we were in the Premiership when it was a rollercoaster," said Burnell.
"This time we're far better prepared and our chairman and owner have been fantastic.
"I don't think the word for us is 'survival' because we want to compete. If we go in with the mindset that we have to survive then I think we're admitting that we're going in just to hang on - so we're in there to compete.
"We've picked up a young centre from the Scarlets, Nic Reynolds, who I think is going to be a bit of a dark horse.
"We've also picked up Chris Elder from down in Plymouth as well as Josh McNally who is an absolute man-mountain. He's ginormous and with his forces background you can already see the desire in him.
"So we've got some exciting prospects but we're still looking to make another five signings to strengthen, which hopefully will be done within the next week - our Director of Rugby, Steve Lewis, has been scanning the world for those extra players.
"We're more than able to compete and hopefully we can pick up a couple of early wins to prove our ability to stay in the Aviva Premiership."
Welsh will open their return to the top flight at home to Exeter Chiefs, with Burnell admitting that starting out at home had been the preference.
"We just wanted a home game first up, so it will be nice to start the season against Exeter at the Kassam Stadium and then we'll take it from there," added Burnell.
"We're mindful that there are a lot of big clubs in the Premiership but they lost a certain amount of games and so hopefully we can be picking them off at the right time."