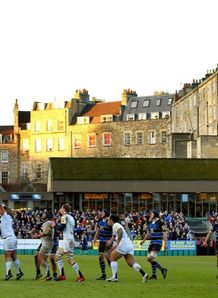 Related links
Teams
Also see
Bath's long wait to add extra capacity to The Recreation Ground is set to continue after another planning setback.
Recognised as one of the most iconic rugby grounds in the world, Bath are seeking to increase the capacity from 12,000.
However the latest application to the council has been delayed, causing further frustration for the ambitious club who are backed by millionaire Bruce Craig.
"Bath Rugby is disappointed that B&NES Council has been unable to reach a decision on the Club's recent temporary application, to increase capacity at the Rec, and that the Councillors have chosen to defer the decision to a later date," read a statement.
"The temporary application sought to increase capacity from 12,000 to close to 14,000 for the next two seasons (2014/2015 and 2015/2016) and provide better facilities for supporters.
"We are clearly very disappointed that B&NES Development Control Committee has chosen to delay the decision for our temporary application proposal," said Bath chief executive Nick Blofeld.
"This presents us with significant operational challenges to be ready for the start of the season, however, we will of course work hard with B&NES to assist them in coming to a positive decision, and still hope to increase our capacity during the period of our 150th anniversary.
"Bath remain focused on securing its long-term future at the Rec and this temporary application is separate to the Club's main plans to redevelop their ageing facilities."