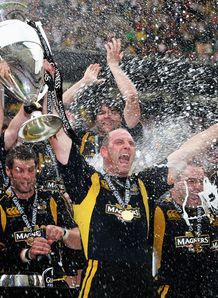 Related links
Teams
Wasps have opted to drop "London" from their name, reverting to their original moniker of over a century for "a clearer identity".
Wasps' CEO Nick Eastwood said: "Wasps is a well-established and well-respected brand which is strong enough to stand alone.
"For almost 150 years we have been known throughout the rugby world as Wasps; even since the re-branding of the Club to London Wasps in 1999 people have still referred to us as Wasps, so we feel we are in keeping with the history of the club.
"During the close-season, we have been looking at ways to build the Wasps brand, with a focus on delivering consistency across all marketing and communications channels. The design team is pleased with the effect this small change has had in creating a bolder, cleaner logo with a strong visual impact.
"After such a successful end to last season, we are all raring to go for the new campaign and hopefully picking up where we left off in Paris. Our pre-season fixtures will be announced tomorrow, helping us to prepare for the exciting challenge in the Double Header at Twickenham on 6 September. We look forward to seeing all Wasps supporters there."