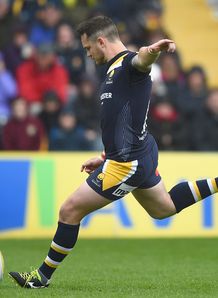 Worcester Warriors will kick off their 2014-15 Championship campaign against Bristol at their new home, Ashton Gate Stadium.
The upcoming season marks the second time Worcester Warriors have competed in the Championship since its formation as a professional second tier in 2009, having secured an immediate return to the Premiership in 2010-11.
Former Gloucester head coach and England back-row forward Dean Ryan took over the reins at Worcester in April 2013, since releasing 14 players and announcing 17 new additions in preparation for the Championship.
The Warriors' return to the Championship is marked by arguably one of the toughest opposition in 2013-14 runners-up, Bristol.
The West Country men lost out on promotion last season, failing to overcome London Welsh across the two-leg Championship final, the second of which took place at the Memorial Stadium in the last game at the famous ground after 93 years.
Bristol will welcome Worcester to Ashton Gate, now joint home with Bristol City FC, signalling their debut fixture at the 21,000-capacity stadium.
At the other end of the table, Doncaster Knights will make their return to the Championship with a home tie against Plymouth Albion, following promotion from National League 1.
Like Worcester in 2011, Doncaster saw an immediate bounce back up the leagues after relegation in 2012-13, all under the stewardship of former Welsh international Clive Griffiths.
In a new addition to the fixture calendar, the Championship XV concept will be reignited following its 2012 success with the Maori All Blacks.
At a Championship venue to be confirmed, the best XV from across the league will face Canada in a showpiece game designed to highlight the breadth of talent on offer in the second tier, while providing a unique international experience for players and spectators alike.