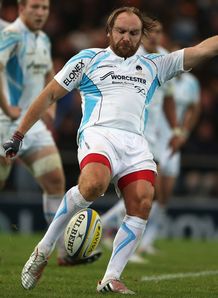 Stand-in Worcester Warriors chief executive Anthony Glossop has blamed the lack of an accurate goal-kicker for the club's fate.
Worcester were relegated from the Premiership after a desperately poor season, and failing to take maximum points from the kicking tee undoubtedly hampered their progress.
The likes of Paul Warwick, Ignacio Mieres and new signing Ryan Lamb failed to impress in front of the posts, and inspirational full-back Chris Pennell was similarly hit-and-miss despite his otherwise excellent season.
The Warriors had secured the services of veteran pivot Andy Goode, but the ex-England ten swapped Sixways for Adams Park and London Wasps last season.
"I am not pro or anti-Andy Goode, but if we had an established, on-song goal-kicker throughout the year, that might also have made the difference," Glossop told Worcester News.
"He was our marquee player when he was here and I don't know how much Wasps are paying him, but if it had been American football and you could bring a man off the bench to kick penalties and conversions, then I would always have had him in the squad.
"But, if you take a game as a totality, you are not building for the future with a player like that.
"Ideally, we had him for three years and we should have grown a number 10 alongside him, so we could have said 'Thank you very much Andy, you've done exactly what we wanted you to do and you can go with our good blessing as we now have this bloke to take over'.
"We didn't achieve that and if there is a criticism, it was failure to grow youngsters at the same time as investing in big-name players.
"If there is one thing I am absolutely certain about with Dean (Ryan), it is that we will not make that mistake again."