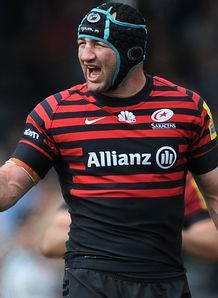 Related links
Teams
Saracens hooker Schalk Brits has revealed he tried manfully to persuade his Steve Borthwick to stay on beyond the season's climax.
The captain will retire from the game to which he has dedicated the prime of his life on Saturday as Saracens look to bounce back from Heineken Cup disappointment by lifting the Premiership trophy against a much-vaunted Northampton Saints outfit.
Brits is at pains to stress how much he and his team will miss their skipper as he hangs up his boots this weekend, calling time on a career that has seen him captain England as well as the Premiership table-toppers.
Indeed, the second-row's famously studious attitude to the set-piece even hit home during a team-bonding excursion to Switzerland.
"We were rooming together and I came back late in the night after a few beers, and he had his laptop out watching line-outs," said Brits.
"I said, 'hey man, give me a hug, I love you - put the laptop down'.
"He said 'no way, I need to do this before I can have another beer tomorrow night'.
"I've never known a guy as diligent as Steve - it's phenomenal.
"It's one of the saddest times for me ever: he's the yin to my yang.
"I'm the happy guy, he's the serious guy: I'm the guy that makes jokes at line-out sessions and he doesn't take the mick out of me - he just says 'shut up, let's just go do some line-outs'.
"As my captain, as a friend and a fellow rugby player, I'm going to miss him a lot.
"I've been teasing him and I've been trying to get him to play for one more year, but he's not budging.
"I've been doing that now for about four months, almost every day when I come in I say: 'one more year, please'.
"And he'll say 'my body is done' and he's one guy who has put in everything that you can into the game.
"He's one guy that's taught me that work ethic is vital, and his is second to none.
"You would only understand him when you work with him.
"He's first in and last out every day, and he's put his heart and soul into this club and his rugby."