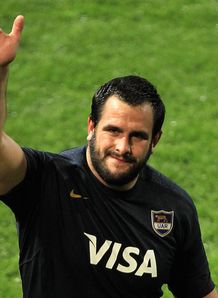 Related links
Teams
Argentina prop Juan Figallo has left Montpellier and joined Saracens in the Premiership after the LNR prevented him from playing.
Figallo has not played for Montpellier since February this year after suffering a 'G3' vertebral injury.
The LNR do not allow players with that type of injury to play in the league. Following the failure to reassess the injury and reclassify it as a 'G2', FIgallo has asked to be released from the final two years of his contract.
With the rules in the Premiership being less strict, Figallo at least has a chance of playing rugby against while he continues to recover from the injury.
"Releasing Juan was truly a matter for the conscience. He is an exemplary player, who is a huge part of the team and the club," said Montpellier president Mohed Altrad.
"However, after injuring the neck with Argentina, he is no longer able to play rugby in France and this decision is very hard to accept for him as he worked hard to get back on the field; he feels ready.
"Juan had an opportunity to go to England. He asked us to let him go and there was no hesitation on our part to deprive him of his passion and go against his will. We wish him good luck for the future."
"It hurts my heart to leave. Montpellier was my club for five years. But I have to try everything to get back on the field," said Figallo.
"We talked a lot with Fabien (Galthiť). He understood me and I want to thank him. I'll remember this club for the rest of my life. This was my first professional club, the first time after I left my home.
"I will keep a lot of memories and many friends. I also want to thank the fans who have always supported me since my injury and allowed me to be confident."