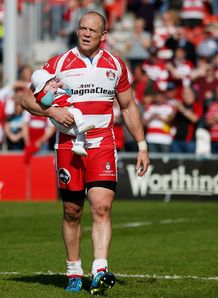 Related links
Teams
Former England centre Mike Tindall admits his playing future is uncertain following the departure of Nigel Davies from Gloucester.
The club are currently searching for a new director of rugby after sacking Davies last week.
Tindall, 35, split his time at Gloucester last season between coaching and playing but still featured regularly.
Now with a new boss to come in, Tindall admits he's uncertain what the future holds with both his playing and coaching contracts having expired.
"It's been a crazy couple of weeks, but we'll see what happens at the end of it," Tindall told Press Association Sport.
"It's a weird time for me with my playing and coaching contract running out at the same time, I'm almost where I was two years ago.
"I don't know what's going to happen but we'll see.
"Everything's in limbo again, so it's just a case of holding on to see what happens."
Tindall also paid tribute to Davies for giving him an opportunity to continue playing.
"I must give a lot of credit and respect to Nigel - without him I wouldn't have been here for the last two years," said Tindall.
"He said for him going forward and the best thing for the group, he wanted me as a full-time coach.
"I disagreed with him, but I had to respect his decision because without him I wouldn't have been at the club still anyway.
"We were going through that process, but now he's not here. My contract will run out so I've got to wait and see who comes in and what they want. So all bets are off: unless you put your CV in for the big job.
"Realistically it would be a very big step for someone just getting started in coaching. You see behind the scenes what a director of rugby has to do and there's so many facets to the job."