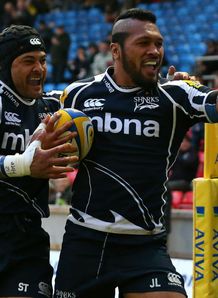 Related links
Teams
Samoan centre Johnny Leota is excited about the challenges to come after penning a new deal with Sale Sharks in December.
The powerful midfielder arrived at the Premiership club after the 2011 World Cup, and claims he feels very much at home, forming a physical centre pairing with ex-All Black Sam Tuitupou.
"I'm definitely delighted to be staying on at Sale for another two years," Leota told the Manchester Evening News.
"I've settled down well here in Manchester and my family enjoys living here too, which was also an important consideration, and there's a really good bunch of boys here at the club.
"We feel as though we're original Mancs now so we're definitely at home here.
"It was important that the family were happy too and my daughter is so happy at her school. She wakes up early because she is so excited about going to school, so you can't ask for more than that.
"Even the weather - I don't find it too bad.
"When we first came here a couple of years ago, we expected it to be worse but it's been fine and in fact when we have had some winter snow we've enjoyed it because that's something you really don't see back home in New Zealand.
"I'm really enjoying my rugby here. The forwards have been doing an awesome job this season by getting us go-forward ball, which has made it so much easier for all of us in the backs.
"And I've always said playing alongside Sam is a huge honour for me. I watched him when I was younger and he was always a guy I really looked up to, so to play alongside him and see how many players he destroys, I'm glad I'm on his side!"
29-year-old Leota remains confident his side can continue to impress in the Challenge Cup; the Sharks fly out to tackle Biarritz in their final group game this weekend, four points to the good over their Basque rivals.
"I think last year we were under huge pressure every week but we performed and I guess it's the same with this competition," added Leota.
"We definitely want to finish the group on a high and if we can get into the quarter-finals who knows?
"As a professional that's why you play rugby, to be involved in big knockout games."