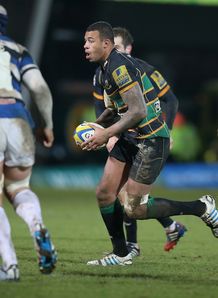 Related links
Teams
Also see
Northampton Saints and England lock Courtney Lawes believes he is a considerably better player after learning to control his game.
Lawes has always been renowned for making monstrous tackles on opponents, a trait that also saw him pick up a number of injuries.
Now 25 and the mastermind behind England's lineout during the November Internationals, a combination of less brawn and more brain has lead to an upturn in form for Lawes, who has noticed the improvement.
"I'm a hell of a lot better player than I was," Lawes told the Telegraph.
"When I was younger I was rash and not bothered and that gave me the confidence to go out and just do it. But there is so much more than those big hits.
"There is all the line-out work, reading the game, defensive structures, carrying the ball which I need to do better, all the technical bits and bobs.
"It dawned on me that I couldn't carry on doing those hits and getting injured because you were too excited or anxious so you didn't time them properly.
"Funnily enough, since I've stopped trying to make them, I've been able to find them a lot more easily. I've been making hits all season. But in terms of my overall game, of understanding what it takes, I'm vastly better."
Commenting on his new leadership role, Lawes revealed the work he had to do in order to get up to speed with managing the set-piece and how the process has aided his confidence.
"A lot of second rows will have called line-outs from an early age but I hadn't so had to make up for lost ground," added Lawes.
"It actually helped me with my own line-out play. I back myself more than others might do. I got thrown into the thick of it. There are still a lot of good locks out there and I just need to keep on my toes. You need to stay fit and to play well. "
Northampton host playoff rivals Harlequins this weekend, but Saints are currently second in the table with only one loss from their opening 11 Premiership matches.
Lawes praised the work of new backs coach Alex King, the former London Wasps number ten who joined the club from Clermont this season, for boosting them up to the top of the league.
"[Alex] has made sure we're not as predictable, trying different things in our game," stated Lawes.
"Harlequins will bring their flair, their offloads, their quick game. They are a maverick team in that they can pull something unbelievable out of the bag."