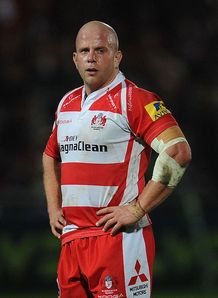 Related links
Teams
Gloucester prop Nick Wood believes his side are on the verge of turning a corner ahead of facing London Irish on Sunday.
The Cherry and Whites grounded out an ugly win over fellow Premiership strugglers Worcester last weekend to move further away from relegation.
It was a welcome victory after being surprised at home by Edinburgh in the Heineken Cup, symbolic of Gloucester's erratic form this season, but Wood thinks further success is on the horizon.
"We just have to do what we've been doing in the last few weeks - that is our thinking," Wood told the Gloucester Citizen.
"Before Edinburgh, everything was in place for a home win, but we just didn't quite get it right, and we'd already done the hard work away.
"But certainly in terms of the foundations of the game, we are really building something.
"And if we make sure we get that right, then nine times out of 10, the result should follow.
"The media will talk about the league table, and it is a relegation league so you cannot afford to finish bottom, so we are feeling that pressure.
"But now we've got a win under our belts, we need to focus on how we're delivering on the pitch, rather than off-field stuff such as the league table."
Wood highlighted more success at the breakdown and with the set-piece as a key factor behind the win over Worcester, with a similar performance in those areas being essential to defeating London Irish this weekend.
"It's the work we've been doing in training," added Wood.
"If we get certain things right on the field after a good week of training, then the result should take care of itself."
"We've changed our mentality as a pack, and our work, certainly in the scrum, means we work from one to eight, whoever is playing in those positions.
"There are 16 guys out there training trying to get it right. I don't think it's down to personnel, but more a shift in attitude in the pack and the way we train.
"The Worcester game was tough, and there were a lot of scrums and lineouts, and if it wasn't the set-piece it was close combat contact.
"But we are feeling good. When things aren't going your way, you take whatever win you can get.
"It wasn't pretty from either side but sometimes derby games are about more than that.
"It's not about running rugby, especially in wet conditions, it's about grinding it out, and making sure your fans are cheering the win."