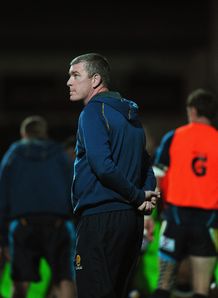 Related links
Teams
Former Worcester team manager Alun Carter has blasted Dean Ryan and urged him to give up his media profile to focus on the club.
Carter's comments have been reported by Worcester News and originate from a blog he posted on the Hadron Consultancy Services website.
He was Wales' analyst when they won the 2005 Grand Slam and was manager under former coaches Mike Ruddock and Richard Hill at the Sixways-based club.
Worcester are winless after their opening seven matches in the Aviva Premiership under Ryan, who replaced Hill at the end of last season, and Carter has slammed the new coach.
"Dean Ryan should give up his media profile and concentrate on where he is losing the thread with Worcester Warriors," said Carter in his blog.
"He believes in one person alone and does not appear capable of trusting any player or coach to be as good as he is or was.
"He is lost in the world of Dean Ryan, which is a very critical, analytical world that produces some really detailed views on the game of rugby union.
"Ryan has gone into Worcester Warriors with his eyes closed - did he think that Dean Ryan alone could make a difference?
"Having worked at Sixways for five long years and knowing many of the players still involved at the Warriors, they are disparate and incapable of the cohesive performances that brought wins on Friday nights last season.
"There appears to be a distinct lack of trust between the director of rugby and those underneath him. Coaches and players alike will feel this and carry it heavily.
"Has Ryan been away from the Premiership scene for too long? Carl Hogg has not and neither has Shane Howarth. They are two very capable coaches and the latter has international experience that only Ryan could dream of.
"Ryan has good leaders within the team - Jonathan Thomas, Chris Pennell, Paul Warwick, Euan Murray, James Percival, Dean Schofield and the newly arrived Argentineans. Is he using them? I doubt it from the way they are playing.
"Ryan has great leadership qualities and is able to talk in detail about the game of rugby union, but that does not make him a good coach.
"Dean has to start trusting people around him. His rugby knowledge and ability is not in question - his ability to coach and get the best out of his charges is.
"Forget your profile Dean, ask yourself some serious questions and start caring about the club and the people within it."