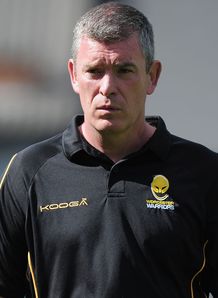 Related links
Teams
Also see
Worcester boss Dean Ryan insists that despite his team's concerning start to the season, there is no worry over relegation.
The Warriors have picked up just two league points from their first six matches and are rooted to the bottom of the Premiership table, as they continue to search for an elusive first victory.
Their latest defeat came in a 40-6 hammering away to Exeter Chiefs, but despite the obvious concerns from supporters Ryan is not pondering relegation yet with 16 matches remaining in the season.
"The three sides above us in the table are on nine points (seven clear of the Warriors) and one of those is Gloucester - who have only won two games - so relegation is not part of the conversation and I don't see why it should be," said Ryan.
"It doesn't mean that we don't recognise the hole that we are in, or that we are being ignorant of the fact, but there are still 16 games left and it is only a seven-point split. But we have tough opposition.
"If anyone feels that we are missing a point or can see the answer, then please let me know. We know what we are doing, we know where we are, but we lose four or five internationals now and that is just the situation we are in.
"We have three players that have only been with us for a week and we are nearly in November. To be talking about relegation is pretty poor.
"I have a huge amount of admiration about how hard the guys threw themselves into the game.
"There are some areas that I thought had improved and there is also some clarity about what we need to do. That is not coming in the short term, that is coming in the long term, and we are trying to manage all these things together.
"I thought elements in this game were outstanding. The reality of it is that we are short of the work culture that they have here at Exeter and other Premiership sides have."