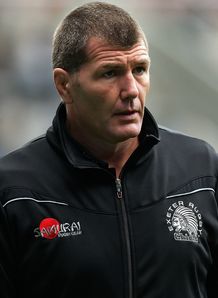 Related links
Teams
Exeter Chiefs head coach Rob Baxter expects his side to face a tough test with the Aviva Premiership visit of Worcester Warriors on Saturday.
The Warriors are still searching for their first domestic win of the season, and Baxter has warned his charges will be up against a desperate team.
"Everyone's very aware the challenges of playing a team that's fighting away are huge," Baxter told This Is Devon.
"That's why I'm so determined to make sure the most important thing we do is not get too carried away or focused on what happened in the Heineken Cup, as far as I'm concerned that's done now.
"We have to flick that mental switch now because we know it's going to be a very important game for Worcester, but it's also a very important game for us.
"Nothing else but 100 per cent concentration and focus will do in the Premiership. We'll be looking to ram that home to the players."
And Baxter believes the Chiefs should be enthusiastic about what they can achieve this season.
"Teams that claim to be ambitious and want to be involved in big games at the end of the season are good at this stage of the season," he said.
"Coming out of the Heineken Cup they're tough and they make sure they get the results they need to keep the season alive.
"I want our players to be excited about every game they play because of how ambitious they are and where they want to go.
"I would be disappointed if a Premiership game at Sandy Park is not exciting for our players. Sometimes you have to re-focus on that. This is a Premiership game at Sandy Park, in front of our supporters, who are fantastic for us. We're in the Premiership - let's relish every moment."
Meanwhile, Chiefs skipper Dean Mumm admits the Premiership outfit were pleased to leave Scotstoun with a losing bonus-point after their loss to Glasgow Warriors in the Heineken Cup on Sunday.
With weather conditions hindering loose and free-flowing rugby, the Australian attests to how tough a test the Scots provided.
"It was a battle," the 29-year-old told This is Devon.
"It was tight and it was hard to get points so, on that front, to get a losing bonus point away from home is very important.
"The real challenge in the Heineken Cup is to get away wins, and if you can't do that the next best thing is to get a losing bonus point and come out of it with something. We are pleased we did that, but ultimately we are not pleased with some aspects of our game.
"There were a couple of scrum discipline issues that allowed Glasgow to get some territory at key times, and we can work on that."