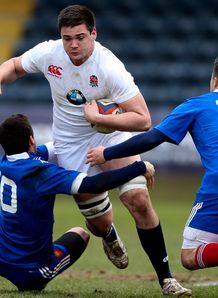 Related links
Teams
Gloucester second row Elliot Stooke has a "massive future ahead of him" according to new team-mate James Hudson.
The England U20 lock has made a big impression for the club's senior side so far this season, getting his first taste of Heineken Cup action against Perpignan last weekend.
Stooke's 6ft 6in and 18-stone frame have made him a tricky opponent for teams in the Aviva Premiership over the first two months, as he continues his apprenticeship working alongside Gloucester's other second rows.
Hudson, who joined from Newcastle over the off-season and reached the Aviva Premiership Final with London Irish in 2009, has backed Stooke to continue to flourish this season as he learns from those around him.
"I'm really enjoying working with all the second-rows; we've got a great group. Everyone's got different qualities, but Stookey's really coming on well," Hudson told the Gloucester Citizen.
"He's getting opportunities at a young age, but in fairness to him he's taking them.
"He's got a massive future ahead of him: clearly he's a big, physical unit for a young boy, but he's also got a great rugby brain, and he knows how to make things happen for himself and others around him.
"It's great to see him develop and hopefully great to be a part of helping him to do that.
"I was once in that position as a youngster coming through of course, and so I know how much I valued senior players helping you out.
"I was lucky enough to play alongside guys like Danny Grewcock and Rob Fidler and they really helped me a great deal.
"They were unbelievably good locks, ok not necessarily lineout specialists, but they would help guide you through things and support you.
"Stookey's a strong boy, doing really well, and hopefully the more experienced players among us can help him fulfil his massive potential."