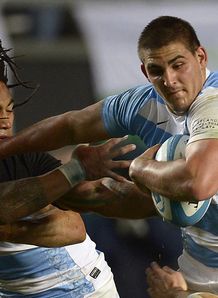 Related links
Teams
Also see
According to a local report, Leicester Tigers have completed the signing of Argentina flanker Pablo Matera, who arrives to cover Tom Croft's injury.
The 20-year-old, who impressed during the recent Rugby Championship, will begin his Leicester tenure once his paperwork has been processed.
"We have looked at several players and Jonathan Poff was one of those," director of rugby Richard Cockerill told the Leicester Mercury on Tuesday.
"But Pablo Matera was available, he has only just turned 20 and I have been watching him play in the Rugby Championship this summer.
"He is one of the best young forwards in world rugby.
"He was keen to come, especially with Gonzalo Camacho and Marcos Ayerza here. He wanted to come to a place where he could play, learn and develop.
"And he chose to come to us despite several English and French clubs being after him.
"He has decided that this is the best place for him to develop as a player."