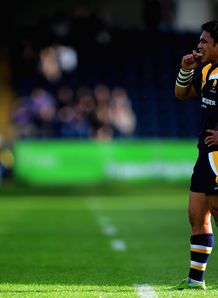 Related links
Teams
Five matches into the new Aviva Premiership season, Worcester Warriors are seven points adrift at the bottom and in trouble.
No set of problems this early in the season are so great that the trouble is unrectifiable. Worcester are five matches and five losses in, but 17 Premiership games remain this season. Fortunes in this league peak and fall through mid-season lulls and bursts of form, but the key component is confidence. As things stand after Round Five, Worcester appear to have none.
Dean Ryan was unrestrained in assessing his team's shortcomings in the wake of their latest defeat. Taking out newly-promoted Newcastle at home was a must-win game for the Warriors after losing their first four fixtures, but they were 10-0 down after as many minutes. Such a hapless start against the Falcons, a relegation rival, on their own turf is unacceptable.
"We are not a side that is full of confidence. We have lost five games this season. We are not going to pretend that we are brimful of confidence after five losses, but we have got to work our way through it," he said.
Confidence is everything in the Premiership and although Ryan's blunt assessment that his team "cannot buy a win" afterwards will hardly spur morale, he is right.
The decision to opt for a number of five-metre scrums with Newcastle defending for their lives sapped energy and time for the hosts until the clock had run out. At 11-16, had Worcester perhaps kicked one of those penalties to draw within three points and then had an easier route to a win, their fortunes might have changed.
It is in those situations that the Warriors truly need to live up to their name. This is not an inexperienced squad; Jonathan Thomas is the new captain after arriving from the Ospreys and the likes of David Lemi, Paul Hodgson, Euan Murray and Chris Jones know this league and know it well.
Where Worcester have come unstuck is with an unhealthily high turnover in their squad during the off-season. Just as consistency has resulted in success for Leicester, Saracens and Harlequins, a revolving door has caused issues for Sale, London Irish and the Warriors over recent years. There is no coincidence.
14 players have arrived at Sixways, with the Argentinian trio of Leonardo Senatore, Agustin Creevy and Mariano Galarza on their way following the conclusion of The Rugby Championship. 16 have left.
Patching a new squad together under new management is an unforgiving task, but the desire to become a genuine Premiership force is now nearly a decade old and the highest Worcester have finished, with a relegation also happening in that time, is eighth in 2006.
Worcester have been punching at the glass ceiling for so long that now the shards are beginning to fall in on them.
More immediately, they must absolutely settle on a consistent matchday squad, along with making sure they have a kicker who can save them when it counts.
Fly-halves Andy Goode and Joe Carlisle have been traded out for Ignacio Mieres and Paul Warwick.
Tries have never come in large shipments at Sixways and last season Goode accounted for 224 of Worcester's 422 points - 53 per cent.
Mieres has been largely accurate thus far in his Worcester career but his missed kicks cost his team in the 18-20 home defeat to Irish. Take away that component in a league where the narrowest of margins can become seismic and the losses will mount up.
Ryan has a massive task on his hands because the longer Worcester go on without that first win, the deeper their morale will slump.
Their next batch of matches include trips to Exeter and Sale, along with hosting Bath and Northampton. There are no easy games in this league and on current form Worcester will be underdogs for each one of those contests.
Sale in many ways are an example of where Worcester need to go next. It took the Sharks until November to pick up their first win last season, after seven consecutive losses. It took them another four matches until their next win came along, but from February they only lost three of their nine remaining games.
Success builds confidence and vice-versa, but right now Worcester have neither in their locker. That first win cannot come soon enough or they will be going down in May.
by Ben Coles
@bencoles_