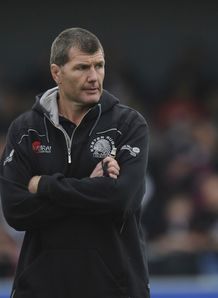 Related links
Teams
Exeter Chiefs boss Rob Baxter reached a new level of frustration with his side after a poor first half against Leicester.
An improved showing after the break wasn't enough to stop Exeter falling to a second defeat of the season as Leicester ran out 21-9 winners at Sandy Park.
Reflecting on the performance, Baxter revealed that he told his team they appeared afraid of the Premiership champions.
Whilst the second 40 minutes pleased Baxter more, the coach admitted that his team were second best by some distance.
"I am far happier [after the game] than I was at half-time. I don't mind saying I think I was as angry as I have ever been whilst we have been in the Aviva Premiership," Baxter told the club's website.
"I don't mind the wins and the losses as such - you deal with those as they are going to happen, but you have always got to fire some shots and give yourself a chance. I said to the guys at half-time that, if I was a supporter watching that, I would think we were afraid.
"When I say that, I don't mean afraid of the physical contest, I mean afraid of making the game a contest and being brave enough to take teams on.
"You can't run every piece of ball you get but there were times where we had a bit of tempo and rather than be prepared to put a few phases together we kicked it away and were on the back foot.
"The second-half we had a lot more intensity and showed a lot more bravery and ultimately we won the second-half 9-6 and made it a real contest, but we have got what we deserved because of our first-half showing.
"You can't run away from that and I have told the guys that, at this stage, if it does not feel nice and exciting to be playing someone like Leicester, then we have got something wrong.
"We showed in the second half how effective that can be, even against Leicester. The fact is we are sat here now disappointed not to have scored two or three tries with the pressure we had on their line.
"I think if we had ran one home and got a losing bonus point that was probably all we could expect after our first-half performance. We have got what we deserved."