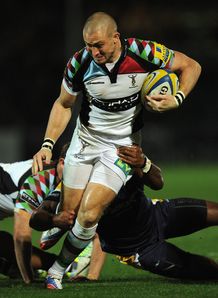 Related links
Teams
Mike Brown is looking to reaffirm his status as England's first-choice full-back by performing well against Saracens this weekend.
The Harlequin finds himself lining up against one of his main contenders for the international starting berth on Saturday, with Alex Goode wearing the number 15 jersey for the Premiership table-toppers.
Goode's creativity saw him get the nod over the Quins man in the Six Nations and November Tests, with Brown instead shifted to the wing.
However, with shoulder surgery ruling the Saracens playmaker out of his country's June tour to Argentina, Brown seized his opportunity, and revelled in the full-back role.
The 28-year-old narrowly got the better of England rival Ben Foden in Quins' narrow loss at home to Northampton Saints two weeks ago, and is relishing the prospect of more time in his preferred position wearing the red rose.
"Definitely I'd like a run at 15 for England, especially in the autumn internationals. I want to show what I can do there," said Brown.
"Playing on the wing was good for my development. It gave me a lot of confidence over what I can do on the world stage - and that was out of position.
"I'm looking forward to getting back with England but selection isn't based on one game, it's about consistency and I feel like I've been consistent over the last few years."
Brown feels his all-round game has developed well since last season, where England selectors cited Goode's proficiency in orchestrating proceedings from the pivotal first-receiver slot. He is now confident, though, that he has the skills to impress at test-match level.
"First and foremost a full-back needs to be a runner, coming from deep just like Ben Foden does really well for Northampton," added Brown.
"But you must also have all-round skill these days and I've shown for Quins that these days I can step up at first receiver if I need to.
"I can attack from anywhere - from deep, the wider channels, at first receiver, sniping around the rucks from nine or picking and going, which you don't see too many full-backs doing.
"I believe my physical game really stands out. I'm ticking along nicely, working hard on bits of my game and feel like I'm getting better. I still work hard on my speed because that's a vital part of being a full-back.
"My kicking has always been a strength, but I've been working on it with (England assistant coach) Mike Catt and that's shown in the last few games in terms of game management."
Quins Director of Rugby Conor O'Shea offered vociferous opposition to claims that Brown is lacking in creativity.
"Mike's the man in possession and was outstanding against Argentina. He was man of the match for us against Worcester last weekend and does everything a full-back should do," said O'Shea.
"He hits the right lines, is aware of the people around him, has a massive kicking game and is so solid under the high ball it's frightening.
"Mike brings so many strengths. Can he playmake? Well watch him do that in our team - and we play more than any other team with the ball in hand."