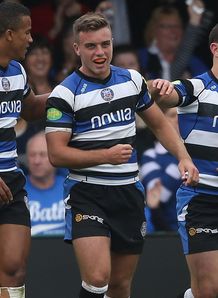 Related links
Teams
Also see
Both head coach Mike Ford and son George were quick to divert praise away from the young fly-half and towards the team after Saturday's victory over Leicester Tigers
Ford junior, who moved to Bath from the Tigers in the offseason, kicked 17 points as the host triumphed 27-20 to mark the 100th anniversary of the fixture.
Bath head coach Mike Ford was quick to praise all of his side and not just son and fly-half George Ford after a 27-20 victory over Leicester Tigers to mark the 100th anniversary of the fixture.
Bath moved into a 21-3 lead at half-time, but after the interval the defending champions mounted a stirring comeback to cut the gap to just four points before a final late penalty sealed the win for the home side.
"I am pleased for George. There was a lot of pressure on him, so I am pleased he has come through it and we have got the win," said Mike Ford.
"Listen, it's not about George, it is about the team. As a coach, to have plenty of things to work on and still win against Leicester, there are obviously quite a few positives there.
"To beat any Leicester side, a club that has been in nine successive Premiership finals, you never knock that.
"Having said that, the performance could have been a lot better. We were sat there at half-time wondering how many opportunities we had missed in their half to put more pressure on them.
"But in the second half, credit to Leicester, they squeezed us, put pressure on us, they slowed the game down. We made a few errors, and they got back into the game.
"I just want the fans to understand that we are very happy where we are in terms of results, but we know we can get better.
"There are going to be highs and lows, but as long as we all stick together, whether it takes us six months, 12 months or 18 months we are going to be a very good side."
Tigers coach Paul Burke conceded that Leicester left themselves too much to do in the second half.
"We gave ourselves a mountain to climb at 21-3 down, but we addressed a few things and I am really proud of the second-half performance," he said.
"We created a lot of opportunities, got to the outside channels and exposed Bath. We came here to play and to score tries, and we scored three against their two.
"When it got to 24-20, we had the momentum in the game. Bath were kicking away a lot of ball, and I thought we rattled them."
Meanwhile, George Ford was quick to sidestep individual praise after delivering an assured display.
"It wasn't about me playing against Leicester, it was about Bath against Leicester," he said.
"I just wanted to come and play, and thankfully I've had four or five games in a row now, including pre-season. I will try to keep my head down, keep working hard in training and see where it takes us.
"It was a tough game. We lost a bit of intensity in the second half and Leicester came back at us.
"We knew Leicester would come back, and we probably didn't grasp hold of the game well enough at the start of the second half.
"One of their biggest strengths is how fit they are, and they were still hammering away in the 78th and 79th minutes."