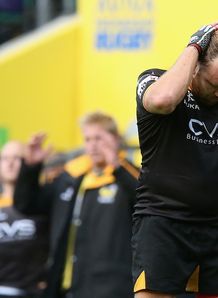 Related links
Teams
Also see
Harlequins boss Conor O'Shea admitting being ready for defeat before Wasps' fly-half Andy Goode's conversion hit the post.
The late miss by Goode meant Wasps were unable to snatch victory away from the 2012 champions, after Tom Palmer scored a try in the 79th minute to bring the score to 15-16.
Goode however, a new signing from Worcester, was unable to make the kick, meaning that Harlequins defeated Wasps in the opening fixture for the second year in a row.
"I had mentally prepared myself for the kick to go over. He hit it brilliantly and it hit the inside of the post," said O'Shea.
"I feel for Goodey. It wasn't his fault they lost the game. The first six games of the season are a bun fight.
"I am delighted with the result. We will take an away win even though it was at Twickenham."
Harlequins captain Chris Robshaw was left savouring a tight win, highlighting the importance of getting off to a winning start.
"I thought Goodey would get it. He is a cool lad and a very good penalty taker. So we were worried he might do it for them. Thankfully, he missed," said Robshaw.
"It was a cliffhanger again but we won. That's the important thing. It's never going to be pretty.
"Wasps are a good side and a dangerous one but we managed to get over the line."
Wasps director of rugby Dai Young placed no blame on Goode for his late miss, stating that the former England number ten will come good more often than he will come up short for the club.
"Andy will win us more games than he loses. It is the curse of the kicker. You are either hero or zero," said Young.
"We could have given him a better angle but the result is no reflection on Andy. It could have gone either way. We had white line fever on a couple of occasions but held our own in every department."