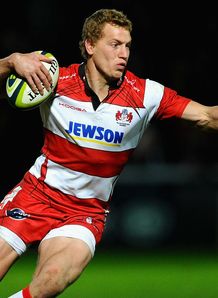 Related links
Teams
Also see
Gloucester are set to begin contract talks with their squad, with 24 players out of contract at the end of the 2013-2014 season.
Among the alarmingly high number of players whose deals will expire next year include England internationals Freddie Burns and Billy Twelvetrees, along with former New Zealand scrum-half Jimmy Cowan.
Those players will be able to sign for other clubs from January 2014 if they decide to look elsewhere, giving Gloucester time to tie down their key stars.
The Cherry and Whites finished in fifth place last season to seal a Heineken Cup spot, but director of rugby Nigel Davies admits there is plenty of work to be done to keep the squad competitive after the current campaign whilst also highlighting the club's procedures off the field to keep the squad happy.
"We did some things this year that the club hasn't done in previous years, only little things, like taking the players to a race day and for a meal," said Davies to the Gloucester Citizen.
"They are little things, but they mean a lot, it shows the club cares, and we do. We're looking to progress that, and actually provide a package for Gloucester players that is unique.
"We're not going to compete with some clubs purely on a monetary level, but there are other things we do that go over and above that. Last year we didn't lose anyone we didn't want to lose, so we were able to manage that process reasonably well.
"This year we're a bit further down the track, and I suppose we're victims really of the performance of individuals and the team collectively at times last year.
"We've got a lot more international rugby players. All of a sudden their profile increases and that puts us under pressure when it comes to re-signing. But the important thing is that these guys realise it's not all about money. Money is important to these players, as it's a relatively short career.
"But the environment they're working in and whether they're enjoying their rugby or not also has to have a big part to play in all that. I'm sure all the boys in the squad are enjoying their rugby and the environment, and they'll appreciate that as much as anyone else."