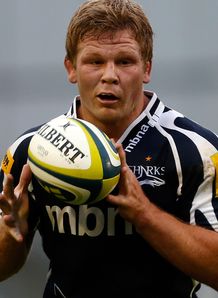 Related links
Teams
New Sale Sharks captain Daniel Braid has discussed his side's resurgence as they survived a relegation battle last season.
Sale were stuck at the bottom for the majority of last season, until a change in fortune combined with London Welsh's points deduction saw them survive by finishing in 11th place.
Braid arrived at the club on New Year's Day and has now outlined the change in philosophy by the coaching staff which, combined with a confidence-boosting run to the LV=Cup Final, saved their season.
"I think the team took a lot of confidence from the second half of last season and getting to the LV=Cup Final," said Braid.
"I came in and the coaches really went back to basics, built a driving platform with the forwards and really looked at the detail through our defence and the simple little things in our attack.
"We did use the LV=Cup to get some confidence back and build momentum and then into the Premiership stuff where we were fighting for our lives there and that helps out with the motivation, week-in, week-out. So I think the boys can be proud of what they did to turn the season round and manage to stay up and survive.
"I think as a side we've sat down and had a look and last season and looked at what went well towards the back half of the season and we're going to try and build from that into this season coming up. But I think our goal is to hit that top six and try and get Heineken Cup rugby for the following season.
"It's a great honour to come in and be named as captain this quickly. There are so many leaders in the side and it is something I'm looking forward to.
"I'm going to be contributing with the knowledge I have of the game with what I can do on the field and I'm really looking forward to the season as captain.
"It is has been a hell of an eight months. It was a bit of a surprise when Steve Diamond mentioned it to me but it was such it a huge honour, I didn't have to think long about it and I'm more than happy to do the job."