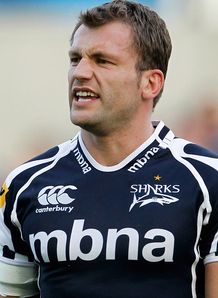 Related links
Teams
England and Sale winger Mark Cueto concedes he considered retiring after being hampered by a knee injury.
The 33-year-old endured a tough 2012/13 campaign in which he was hampered by injury while Sale struggled in the lower realms of the Aviva Premiership table.
Cueto has a year left to run on his current contract with the Sharks, and he admits that if his deal had been up for renewal at the end of last season he may have called time on his career.
"I'm so happy I've got this extra year," he told BBC Radio Manchester.
"If my contract had been up at the end of last season, with the way I felt and after the year we'd had, I'd have knocked it on the head.
"I remember this time last year and I couldn't kneel on the ground for my [pre-season] photo because my knee was that sore," he added.
"I carried it all last season and, because you're turning out week-in and week-out, people don't realise where you're at."
No longer in England's plans at international level, Cueto was able to enjoy his first full off-season in many years and after a good pre-season campaign he is raring to go once more and is even considering extending his career.
"We had six weeks off and that's probably the longest rest I've been able to give my body since I started," he said. "Then I've done eight or nine weeks of pre-season, which has been brilliant. I feel as good as I have for a long time.
"If the season goes well, my body feels good and I feel I can contribute at the right level, I'll potentially look at another year."