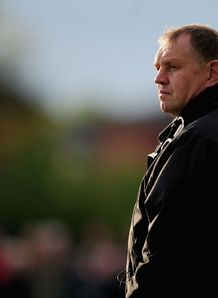 Related links
Teams
Newcastle Falcons boss Dean Richards has called for a rebalancing of power in English rugby towards the North of the country.
Richards brought Newcastle back into the Aviva Premiership last season after completing a three-year suspension over the 'Bloodgate' scandal.
Now with the Falcons back in the league, Richards believes the power of the league's London clubs needs to be checked and re-directed to the North of the country, highlighting the area's rich heritage.
Richards also underlined his ambitions for the club in the Premiership, not content to slog it out in a relegation battle and confident that his squad could cause some surprises despite being written off.
"I think it's massive for the whole of the north of England, not just the North East, to have Newcastle back in the Premiership," said Richard to the Daily Telegraph.
"There is this conglomerate of clubs in the London area which think they rule the game and we need to restore the balance of power a little bit towards the North.
"If we can get Leeds back as well, it will make a massive difference to the sport as a national game. We don't want to just be a northern outpost here.
"People forget the rich heritage rugby union has in the North East. There is great tradition up here and the Falcons can tap into that. The surface hasn't been scratched really and I think this club can go on to really surprise people over the next few years.
"The Premiership has evolved since I was in charge of Harlequins, but we are constantly challenging ourselves.
"I've been here before and seen it before. It doesn't faze me if we're tipped to struggle, but I think genuine rugby people will see we've got a balanced team and, barring too many injuries, we'll not be fighting it out down the bottom.
"I hope people don't get the wrong idea when I say I'm not thinking about survival. I want to stay up, but I don't want to be down the bottom, I want to be a little bit higher up.
"If I have a goal, it's to win every game, or at least have a chance of winning. Rome wasn't built in a day, but the changes from when I arrived last August to today have been absolutely massive and there will be more changes over the next three or four years. It's about getting into a position where we are always up at the top, fighting for silverware."