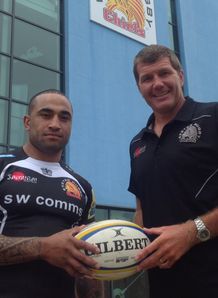 Related links
Teams
Tongan winger Fetu'u Vainikolo is confident that he'll be up to the challenge of Premiership rugby after joining Exeter from Connacht.
The 28-year-old has arrived at Sandy Park on a two-year deal having spent two seasons in Ireland.
The flyer reveals that main motivating factor behind his decision to join the Chiefs is the attacking style of play that that Rob Baxter's troops have adopted.
"I'm really excited and looking forward to it," Vainikolo told Exeter's official website. "It's always good to get a new experience and I'm really looking forward to the challenge. "Exeter's type of game play really suits me as a rugby player, it's the type of rugby I want to play because they like to throw the ball around here, so I'm looking forward to it."
The challenge of playing in the Aviva Premiership is an enticing one - although it is a step into the unknown.
"I just wanted to try new things and play here in England and Exeter was one of the best attractions to me," he said.
"I don't really know what the Aviva Premiership will be like, but I'm sure I'm going to find out pretty soon! I can't really say much about it because I haven't played a game yet, but it should be quite similar to any other team and competition.
"As for what we do as a team, I'm just hoping we can better last year and that the club can go further than ever before. For myself, I just want to go out there and play and score some tries."