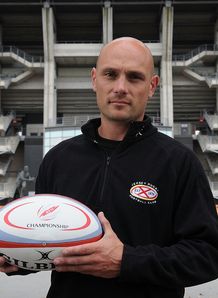 Jersey director of rugby Ben Harvey has set the club a five-year goal of achieving promotion to the Aviva Premiership.
The islanders won just six of their 22 fixtures during last year's RFU Championship season on their way to finishing second from bottom but their ambition remains to reach the top level of English rugby.
Harvey has added experienced campaigners Niall O'Connor (Ulster), Alex Rae (Wasps), Tom Brown (Newport Gwent Dragons), Mark Foster (Exeter Chiefs), Drew Locke (Gloucester) and Dave Young (Lazio Rugby), as well as youngster Nick Campbell (Glasgow) for the upcoming season - Jersey's first as a fully-professional outfit. The Jersey boss is confident such signings will boost their chances of promotion in years to come.
"I wouldn't be betting against it," he told BBC Radio Jersey of the club's chances of reaching the Premiership.
"Anyone who thinks that in five years' time we're not playing in the Premiership, I'd like to see where they'd put their mortgage money.
"It's my aim, that's the goal of the club," he added.
"If we believe in it strongly enough and we work hard enough then we'll get there."
Despite an influx of players from outside of Jersey, and the loss of homegrown products such as Michael le Bourgeois (Bedford), Harvey insists that any charge to the Premiership will be done on the back of local talent.
"I've said from word go we'll go as far as the best Jersey-born players," he asserted.
"My honest belief is with a lot of hard work they can play in the Premiership.
"We know how hard a journey it is, but we also know how important our crowd has been in making sure we get there.
"We're confident we can go home and away and beat everyone in the league."