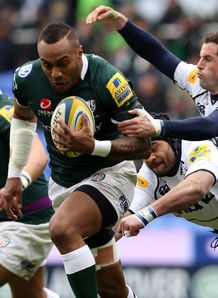 Related links
Teams
Also see
After a disappointing 2012/13 campaign, London Irish winger Sailosi Tagicakibau is determined to prove a point this term.
The Exiles are looking to bounce back from a disappointing season that saw them finish ninth in the Aviva Premiership standings, having languished in the bottom tear throughout the campaign.
With Matt Garvey, Alex Corbisiero, Jonathan Joseph and Anthony Watson all having left the club for seemingly greener pastures, Brian Smith's team have not been offered much hope as they prepare for the new season.
However, it is this negative sentiment that Tagicakibau is looking to channel into positive performances.
"I've been with London Irish for six seasons and I wouldn't have stayed if I didn't enjoy the rugby or the place, so for us not to do well last year hurt me, I didn't think we deserved to finish where we did," Tagicakibau told the Rugby Paper.
"It's a personal goal of mine to put the club where it needs to be and show that this isn't a team that needs to be forgotten.
"A lot of people have written us off before the season has even started and being one of the guys at the club that has been there for a while now and who loves it, that hurts and I take it personally."
Tagicakibau has a point to prove personally after crossing the whitewash just once in the last Premiership season.
"We all know we under-performed last year but I think in the second half of the season we were much better and didn't finish the season too badly," he conceded.
"I can include myself in that as I only scored one try in the Premiership but I am going to be like a man possessed this season to turn things around - everyone is, really, as we want to show the true London Irish."