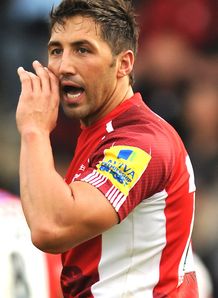 Related links
Teams
Also see
Former Bath prop Duncan Bell admits he has some sympathy for Gavin Henson after the Welshman found himself in the headlines for the wrong reasons yet again.
Bath's new recruit got his tenure at the club off to a rocky start when he was dealt a knockout punch by one of his own team-mates during a night out.
The incident adds to a long list of off-field dramas which have largely overshadowed the talented utility back's exploits on the pitch.
Henson's relationship with former partner singer Charlotte Church and his appearance on the reality TV programs 'Dancing with the Stars' and 'The Bachelor' have increased his profile, and Bell believes that this makes the 31-year-old's life more difficult.
"I'm maybe not surprised that something has happened with Gavin Henson given his past. But rugby is rugby. Things like this certainly happened a lot during my career, and things like this will probably always happen," Bell told The Rugby Paper.
"I feel a bit sorry for Gavin. The spotlight is always on him. But they are team-mates and I'm sure you will see them next weekend having a beer together.
"This sort of thing normally happens on the training pitch. I don't know the number of times I've seen a fight in training with the players then putting their arms around each other and going off together for a bite to eat in the canteen. I don't know how many times I got punched by a team-mate on a night out.
"I'm not condoning it, but it's old school rugby values. Is it right? Probably not."