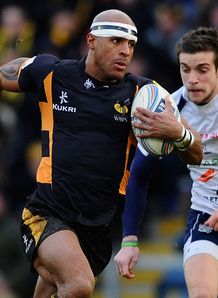 Related links
Teams
Wasps have enlisted the help of British sprinters Adam Gemili and Jeanette Kwayke ahead of the new season.
With the J.P. Morgan Premiership Rugby 7s Series just weeks away, the London outfit have been working on improving their speed and and agility which will no doubt aid them both in the 7s Series and when the Aviva Premiership kicks off.
Gemili, who reached the 100m semi-finals at the London 2012 Olympics last year, admitted he was impressed by the speed of some of the Wasps players.
"I used to play a bit of rugby as a kid so I've loved coming here and sharing my sprint knowledge with the guys today. Rugby sevens is such an exciting sport to watch. The sheer pace of some of the lads who play it is incredible," Gemili told the official Wasps website.
"There are a few of the guys here today who wouldn't look out of place lining up on the track but fingers crossed for my sake they stick with rugby," he joked.
Tom Varndell, who is reported to have run the 100m in 10.58 seconds while at school, was one of those to attend the training session.
"Having Adam and Jeanette here today has massively helped with our preparation for the J.P. Morgan Premiership Rugby 7s. Acceleration and speed are vital in putting the tries away and winning games in 7s," commented the winger.
"It was a really good session and we've taken away some useful tips and coaching points to add to our training schedule. With 7s becoming an Olympic sport in Rio 2016 it was great to get a few stories from Adam on his experience competing at London 2012 and how to handle the pressure."