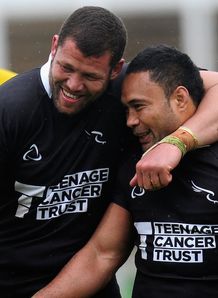 Newcastle lock Carlo Del Fava is excited about the prospect of competing in what he described as "the toughest league in the world."
Del Fava has experience playing in the Top 14, RaboDirect PRO12 and the Italian league, but is yet to test out his expertise in England's top tier.
The Italian was part of the club's promotion campaign last season which culminated in a playoff victory over Bedford, with the 32-year-old bringing his invaluable Test experience of 54 caps to the squad.
"I can't wait to play in the Premiership. I am just so excited about it," said Del Fava to The Journal.
"I have played all over the world, but I have always wanted a go at the Premiership. I am relishing the fact we will be up against top-class sides every week, and I truly believe it is the hardest club league in Europe.
"It was a great feeling to get promotion after such a long season. Honestly, it was the best feeling I have ever experienced on a rugby field throughout my whole career.
"The build-up, how we had to work for it and the camaraderie. It was just pure rugby, if you understand what I mean, and a great feeling that it has all ended with the title and promotion.
"I am so proud of the team. We produced the goods when it really mattered, but it will be hard for us in the Premiership given the quality we will be up against every single week."