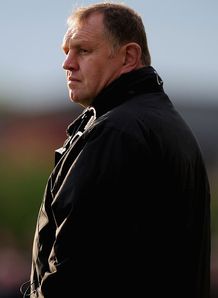 Related links
Teams
Newcastle Falcons director of rugby Dean Richards insists his side are ready for a "baptism of fire" at the start of the new season.
Having won promotion back to the Aviva Premiership at the first time of asking from the RFU Championship, Richards will now be on a mission for Newcastle to put off rejoining the English second tier.
With new signings including the likes of Mike Blair, Rory Clegg and Andy Saull, the Falcons have brought in plenty of top-flight experience to help their campaign.
Richards for now though is purely focused on his side's first match against Bath, which will open the new season on Friday night, September 7.
"It's going to be a baptism of fire back in the Aviva Premiership - Bath at home followed by Sale and Leicester away - it doesn't get much harder than that," said Richards.
"There are no easy games in the Aviva Premiership though and I've told the boys this - Bath at home will be a very good indication of where we're at as a club and where we need to improve during the season if we're going to be competitive.
"It doesn't matter who you play, it's more about when you play them - having Bath at home on a Friday night at the start of the season probably plays more into their hands if you look at the squad they possess but the Premiership can change very quickly.
"I'm not starting the season with a goal in mind, I hope we don't go down - probably barring the top four or five clubs, everybody has that fear each season.
"It's such a tough competition and I hope we don't get sucked into a relegation battle because it's difficult to escape from.
"I know if we play as well as we can do and the new guys involved gel quickly, hopefully we'll have enough to stay up, I'm confident about that.
"We've got a very good collection of pre-season fixtures, the boys are back training and it's certainly going to be very interesting indeed.
"We've only had three weeks off, we've been back now training hard for a fortnight but that's the price you pay for relegation and having to go up via the Championships play-offs.
"I'm pleased with who I have brought in, there seems to be a good blend of experience and youth and I think we will have enough this season.